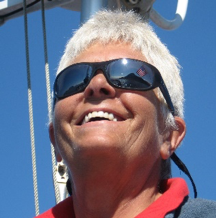 Secretary
Captain Priscilla Travis

USCG 100-ton Master
This email address is being protected from spambots. You need JavaScript enabled to view it.
As a teenager I taught myself to sail in a 15-1/2 ft. Snipe on Pennsylvania's lovely Lake Wallenpaupack; many, many years later, in 1986, I qualified for a 100-ton Near Coastal license (with Sail Endorsement), demonstrating that my early self-taught skills weren't a detriment to later learning. A 37-year career in university education (communication and theatre) also allowed time to pursue nautical activities during summer vacations and school holidays, first as a sail cruiser and later with the USCG license teaching sailing to adults and doing occasional yacht deliveries. When I retired to Maryland, I joined CAPCA in 2005.
Over the years I owned two sailing yachts, both named Nomad: a 33-ft. Dutch-built steel sloop and a 42-ft. custom steel and aluminum pilothouse cutter, designed by Ted Brewer and built by Marine Metals, Inc. at Little Creek, VA. Between 1978 and 2016 (when I sold my boat) I logged 105,000nm coastwise and transatlantic aboard these two rugged cruisers. These miles allowed me to keep up navigation skills as well as to have enough sea-time for license renewals. Paper charts and traditional piloting techniques, GPS and radar were the staples of the summers. The Nomads traversed the waters of North America from the Bahamas and Bermuda to Nova Scotia, Newfoundland and Labrador.
When I retired in 2003, I took my boat across the pond, based her in Scotland, and enjoyed 5-1/2 months each summer sailing in northwest Europe: the British Isles, Channel Islands, Ireland, Faroe Islands, and Norway. I'm a fan of high latitudes. Nomad sailed from Southampton, England to Baltimore aboard a ship in 2016, giving me a topic for a talk to CAPCA. Now I sail OPBs and have a Document of Continuity.
Hans Hoffmann, my predecessor as Secretary, wrote the following in his CAPCA bio, and I quote him here because he speaks for me, too: "CAPCA continuing education and training courses have been invaluable to me. Over the years, I have taken virtually every course offered. I can say that my teaching has been enhanced and my mind has stayed sharper because of relevant courses our CAPCA directors of education and training have put together for us." I may not be working my license now, but I still sign up for courses!