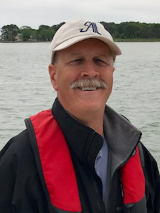 Webmaster
Captain Dave Sire
USCG 50-ton Master
This email address is being protected from spambots. You need JavaScript enabled to view it.
After learning to sail in high school, I spent a couple of decades far from the ocean, working in the central and southern Rocky Mountain West. I've been making up for lost sailing time ever since moving to Maryland in 2002. I sailed the Chesapeake Bay at every opportunity, first on a Catalina 250 and later on a Catalina 34. I recently made the jump to a Nordic Tug 37, which has extended my cruising range and my boating season. I continue to sail on other peoples' boats, including deliveries to and from the Keys every year, which are largely offshore.
Before retiring in 2014, I was a tiny sprocket in the great gears of government - 32 years with the Forest Service, 3 years with the Department of the Interior, and 1 year as a Senate staffer. My public service career experience includes environmental stewardship, communication, collaboration, and problem solving. As an adjunct to my regular duties, I built and managed several websites.
I am working with an inspired website team to make the CAPCA website a valuable resource for members and the public.